Barratt Homes to deliver a further 300 plus homes at Linmere development in Houghton Regis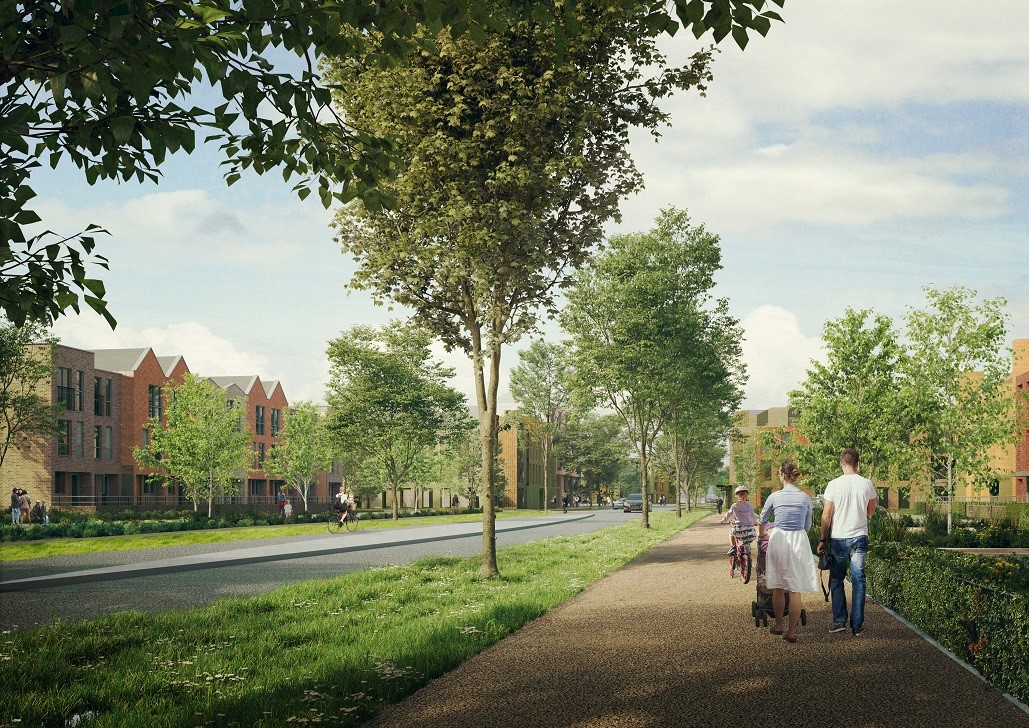 the new development brought forward by the Houghton Regis Management Company (HRMC), a consortium comprising Lands Improvement, Aviva Investors, and the Diocese of St Albans.
Situated north of Houghton Regis, Linmere's collection of leafy and walkable neighbourhoods is set to be a new centre for South Bedfordshire. On behalf of its consortium partners, Lands Improvement is leading on the development of Linmere, which will ultimately deliver up to 5,150 homes, 1.25 million sq. ft of distribution and up to 1 million sq. ft of retail, office and leisure development, together with associated open space, schools and community facilities.
Barratt Homes' development sits within the largest plot at Linmere, and will include a mix of 1, 2, 3 and 4 bed homes, with a number available on Affordable Rent and Shared Ownership schemes. Sizes will vary from c.450 sq ft to c.1500 sq ft, catering to first home buyers and families.
Work will begin on site this year and once complete, residents will benefit from over 190 acres of green space (the equivalent of 62 cricket pitches) and its close proximity to The Farmstead, a visitor centre and café to be opened in Q3 2021 that will serve as a community hub and a lively destination where residents, locals and visitors are welcome. The opening of a new supermarket and the extended Thornhill Primary School is also due in 2021.
Linmere is very much focussed on creating a place where wellbeing is prioritised and outdoor living is a way of life. The vast amount of green space will be accessible to all residents in Houghton Regis, not just those living at Linmere and once completed the overall development will contribute more than £36m towards local education, transport, open space and leisure facilities. The project has already provided a substantial financial contribution to deliver the A5-M1 Link Road, which has been open since 2017, and will bring benefits to the wider area including helping to relieve traffic congestion in the nearby town centres.
Nigel Reid, Development Director of HRMC said: "To have another major housebuilder on board is further endorsement of our vision for Linmere and we look forward to construction beginning on these new homes shortly. The Barratt team has bought into the Linmere philosophy of quality and easy access to our parkland schools and amenities. We look forward to working with them to complete more new homes."
Simon Francis, Managing Director at Barratt Homes North Thames, said: "As a five-star housebuilder, we are thrilled to be delivering much needed homes in Houghton Regis and look forward to contributing to the new and existing communities in and around the Linmere development. We are pleased to play a part in the regeneration of the local area and see Houghton Regis as being a great place for first time buyers and families to move to."
Ben Littman, Development Director, Real Assets, at Aviva Investors: "We are pleased to see the first homes now being constructed on-site. Linmere is a significant regeneration scheme with a focus on maximising the wellbeing of residents. With a range of properties to be developed, including affordable housing and shared ownerships schemes, we believe the scheme offers opportunities to create a community from a broad base of backgrounds. The addition of retail and leisure facilities should add to the appeal of the area and make Linmere an attractive community in the coming years."
For further information regarding Barratt Homes at Linmere, or to register your interest, please visit www.barratthomes.co.uk.