At Lands Improvement, we have always had a focus on our legacy. What imprint do we leave behind and how does that shape the way we live, work, and play. In our commitment to excellence, we constantly challenge ourselves and as such, we have implemented the Lands Improvement placemaking framework to ensure that design and place is embedded in everything we do.
Central for us is the challenge of how to make all our sites 'happy and healthy places', which people are genuinely proud to call home and spend time in.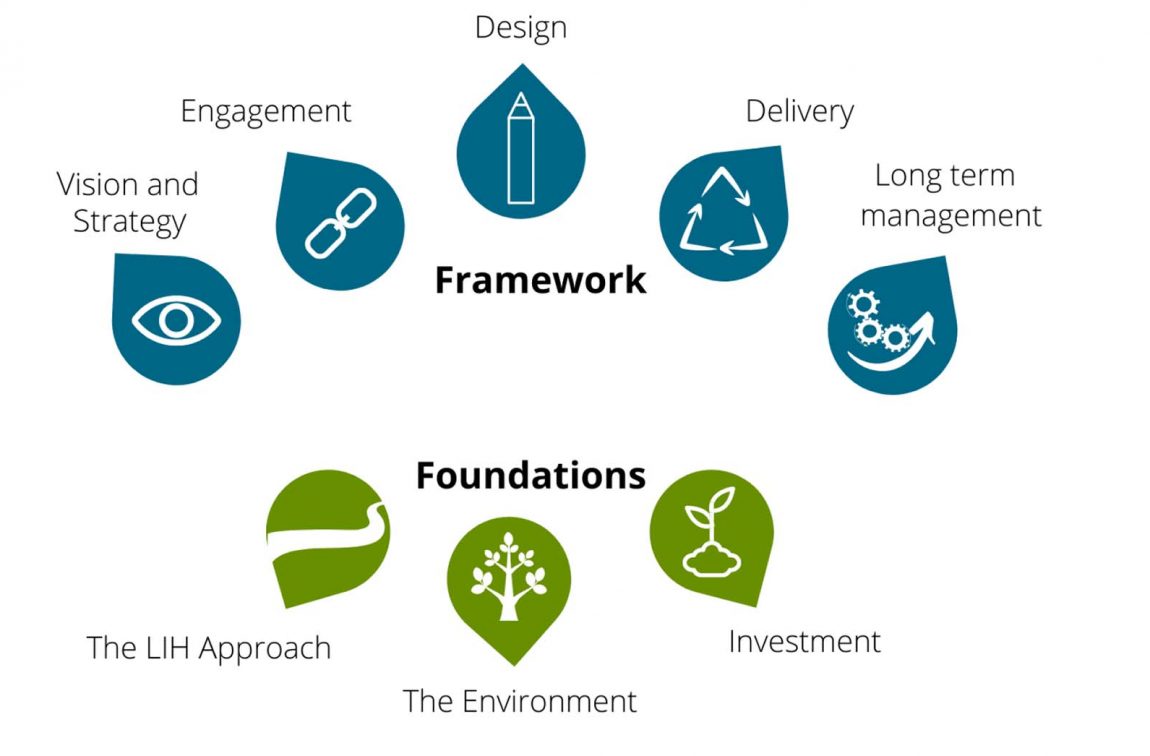 What will our place look like?
Safe, healthy, happy neighbourhoods
Engaged and proud communities
Somewhere with definition, a place with heart
A place with interest and variety
A place which seamlessly fits in with the local surrounds
A place which facilitates healthy ways of living, and enables activity
A place where walking and cycling are easy
A place where children can play and explore, a place for all generations
A place which people do not want to move away from
With a strong vision and strategy in place at the start of each project we have the best chance of success. We always think 'Place' when acquiring sites and where possible.
We select sites with good existing or planned public transport connections
Select sites with good local amenities for day-to-day needs within a 15-minute walking distance or where these could be provided
Understand the local area, our market and potential buyers' employment, education, amenity, and connectivity needs
Create an early vision for the site
Work with place focused teams
We want to truly engage and learn from those that know the area best, and to form lasting constructive relationships. This principle sets out our ethos and expectations on how we should go about engaging effectively and honestly, with guides and pointers for how we do this.
Our key design points
Design on a human scale, and create intimacy and warmth
Include an appropriate centre
Encourage walkability and sustainable ways of moving around
Promote meeting and gathering
Maximise the benefits of open space
Include appropriately located amenity and public transport
Build with nature
Build in flexibility
All our aspirations will come to nothing if we are unable to see them through to the end. Key components include: Working with councils and statutory authorities to have our designs and best intentions approved and delivered and working with partners who share our vision and ethos.
We ensure that the places we deliver remain as great places to live and are cared for over the long term. There is no one size fits all approach, and we therefore identify and implement the most appropriate long term management solutions.
The Lands Improvement approach
The Framework sits at the core of how we approach all our projects, at all stages, both with the Lands Improvement and wider consultant teams. It is a guide, not all of which will be applicable to every site. Teams are challenged to exceed it and look for further opportunities.
Place, legacy, and the environment go hand in hand. As a master developer and promoter, we need to be conscious of this in all that we do. There are no easy answers, however we do have the ability to exert influence in several areas and we will seek to do all we can to minimise our impact and look for enhancement opportunities:
Always looking for the best ecological solutions
Aiming to accelerate the move to electricity, exploring how to reduce energy consumption and improve environmental resilience
Supporting low carbon developers
Working with environmentally conscious suppliers as a key part of our tender process
Actively promoting sustainable transport solutions
Working with the Building with Nature design standards
Always being on the lookout for ideas and better solutions
We believe that early investment can really set the scene and create the heart of a place early on, and at Lands Improvement we have the financial ability and desire to do this. However, we do not just invest in physical assets, we invest in facilitators and on-site managers, in training, and most significantly we invest time. We believe in spending time thinking, to really explore an issue and look at creating innovative solutions to deliver the right answer for the place/development.