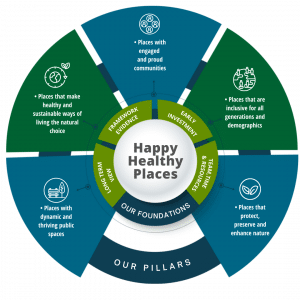 Lands Improvement, as master developer and land promoter, is in the privileged position of being able to significantly impact the places people live in – and their day-to-day lives.
It is our intention for this impact to be as positive an experience as possible, and this means playing a leading role in creating places where people love to live; now and in the long-term.
Our influence comes from the places we develop, the people we work with and existing research into the way placemaking is evolving.
Everything we develop – including our tools, processes and ways of working are focused on remaining true to creating great places for people to enjoy living in.
OUR GOAL
Healthy Happy Places
Healthy Happy Places encapsulates our ambitions for the places we make and the people who live there.
By this we mean:
Places with dynamic and thriving public spaces
Places that make healthy and sustainable ways of living the natural choice
Places with engaged and proud communities
Places that are inclusive for all generations and demographics
Places that protect, preserve and enhance nature
These are our Placemaking pillars.

Ben Phillips
Development Director
As a business, as a team, as individuals, we want to be proud of the places we deliver.

We want to know that we have played our part in providing great places for people to live and spend time in, and that we have delivered them in the right way.

We are committed to putting place at the heart of everything we do, and to continually challenge
ourselves to do better.
Get in touch with Ben