First of 5,000 new homes at Linmere development to be delivered by Bellway Homes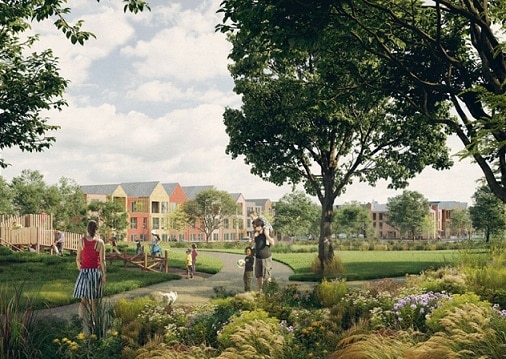 The Houghton Regis Management Company ('HRMC'), the consortium bringing forward the Linmere development in Houghton Regis, has completed the sale of a 7.3 acre parcel at Linmere, the major urban extension located to the north of Houghton Regis in South Bedfordshire, to Bellway Homes.
On behalf of its consortium partners Aviva and the Diocese of St Albans, Lands Improvement is leading on the development of Linmere, which will ultimately deliver up to 5,150 homes, 1.25 million sq. ft of distribution and up to 1 million sq. ft of retail, office and leisure development, together with associated open space, schools and community facilities.
The sale of the site, for which Bellway Homes secured detailed planning approval in July, will see work begin on the first 153 new homes at Linmere. Bellway Homes' development will offer residents the choice of a range of contemporary three and four-bedroom houses as well as one and two-bedroom flats. The new homes, 10% per cent of which will be made available and accessible via Affordable Rent and Shared Ownership schemes, will be located opposite one of three new schools planned for the urban extension, and a local centre.
Once complete, the first phase of Lands Improvement's masterplan will deliver a total of 1,000 new homes including self-build properties. With over 190 acres of public green space, the equivalent of 62 cricket pitches, Linmere is very much focussed on creating a place where wellbeing is prioritised and outdoor living is a way of life. All properties will be located within 5 minutes' walk from public green space and 'The Farmstead', a visitor centre and café to be opened in January 2021, will serve as a community hub and a lively destination where residents, locals and visitors are welcome.
This green space will be accessible to all residents in Houghton Regis, not just those living at Linmere and once completed the overall development will contribute more than £36m towards local education, transport, open space and leisure facilities. The project has already provided a substantial financial contribution to deliver the A5-M1 Link Road, which has been open since 2017, and will bring benefits to the wider area including helping to relieve traffic congestion in the nearby town centres.
The whole development is projected to deliver 2,400 new permanent operational jobs, in addition to 2,550 temporary jobs during the construction phase. The supermarket chain Lidl has also signed up to deliver a new 1 million square foot logistics warehouse adjacent to the M1, as part of the first phase of the development, which will be more than double the size of any other Lidl UK warehouse and will create up to 1,000 new jobs.
Nigel Reid, Development Director of the HRMC said: "This is a significant milestone for the project and will see the first new homes come forward at Linmere alongside The Farmstead visitor centre in the coming year. Reaching this stage is a massive achievement and the culmination of a huge effort from the whole Lands Improvement team. We will continue to work closely with Bellway Homes and other development partners, to be announced shortly, to ensure Linmere becomes a place its residents and the wider Houghton Regis community can be proud of."
Luke Southgate, Sales Director for Bellway Northern Home Counties, said: "It is brilliant news that our plans for 153 new homes in Houghton Regis have been approved, and we are really looking forward to starting work at the development.
"There is a great demand for new homes in Houghton Regis, so we are really pleased to be able to provide a range of homes to help meet this need.
"These new homes promise to be a fantastic addition to Linmere. The wider neighbourhood also offers a great range of amenities for all types of buyers and we are looking forward to welcoming visitors to the development in the future."
The first homes being built by Bellway at Linmere are set to be released for sale in 2021.
For further information regarding Bellway at Linmere, or to register your interest, please visit www.bellway.co.uk.