Lands Improvement acquires major strategic land opportunity in Essex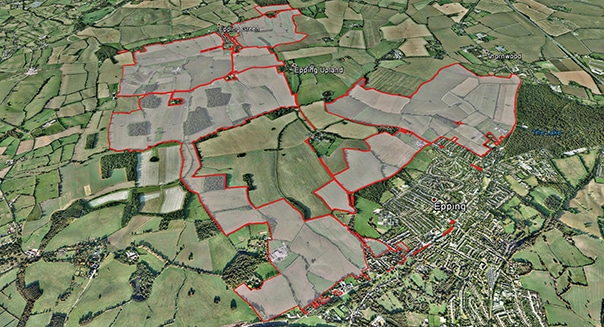 Lands Improvement has completed a busy summer of sales and acquisitions with the purchase of the Epping Portfolio in Essex for £24M.
The Epping Portfolio, also known as the Copped Hall Estate, lies within walking distance of Epping underground station at the eastern end of the Central Line. Previously a family-owned Estate, it covers a total of 1,940 acres and currently includes a mix of agricultural and residential uses including 8 farms, 21 houses, as well as the Epping Sports Club.
The acquisition represents a significant strategic, long-term investment for Lands Improvement, which was acquired by the Telereal Trillium Group for £120M in September 2015. It is one of the UK's oldest land investment companies and specialises in working with farmers and landowners to progress residential-led development through planning and strategic infrastructure delivery.
Lands Improvement has appointed Strutt & Parker to assist with the day-to day management of the Estate and advise on the short and long-term priorities for its management.
James Stone, managing director of Lands Improvement, said:
"We are delighted to announce that Lands Improvement has taken over the ownership of the Epping Portfolio. This is a long-term investment for the company and we will be working closely and collaboratively with tenants, community groups and other stakeholders to ensure the estate realises its full potential as a sustainable and prosperous place to live and work."
Lands Improvement's investment in the Epping Portfolio follows a number of recent disposals of ready to build land that the Company can now confirm represents a total consideration in excess of £67M and circa 950 new homes.
They are:
The sale on August 1st of Phase 2 of its site in Colchester to Bellway Homes, comprising 17.5 acres with outline planning permission for up to 120 homes. This follows the successful development of the first phase of 200 homes.
The completion in July of the sale of 33 acres of Lands Improvement's holding (97 acres) at Gateford Park on the northern edge of Worksop, Nottinghamshire. The land has been purchased by Barratt Homes and Jones Homes and will accommodate 461 new homes. This followed an investment by Lands Improvement of c.£3m to prepare the development platform and deliver roads and services to the land to provide a ready to build proposition for the house builders.
The purchase in June by Harron Homes of Lands Improvement's holding of 22 acres in Ripon, Yorkshire. The site, a former sand and gravel quarry, was granted outline planning permission in July 2015 for 150 homes.
And as previously announced by Lands Improvement, the sale of approximately 58 acres at its mixed-use development adjacent to Haddenham Airfield in Buckinghamshire to housebuilder CALA Homes, DAF Trucks Limited and crane hire specialists GGR Group.
James Stone, managing director of Lands Improvement, said:
"The last few months have seen the successful culmination of years of hard work by the Lands Improvement team; acquiring, priming and preparing land for residential development. These disposals will enable much needed new homes to come forward in well serviced and sustainable locations where people want to live.
We plan to reinvest the proceeds in a number of exciting projects coming forward this year and will continue to make further acquisitions."