Lands Improvement sells off large part of Haddenham Airfield development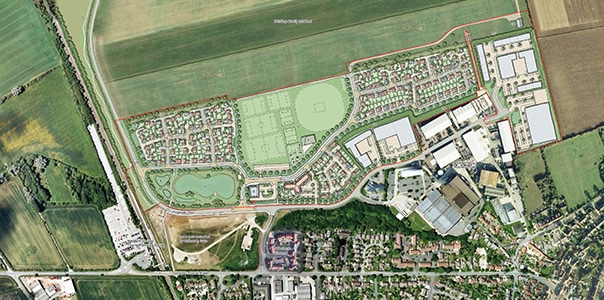 Lands Improvement Holdings' ('Lands Improvement'), one of the UK's leading strategic land development companies, has secured three buyers at its major mixed-use development of land adjacent to Haddenham Airfield in Buckinghamshire.
Lands Improvement owns 158 acres to the north of Haddenham Business Park, which lies six miles south west of Aylesbury and adjacent to Haddenham and Thame Parkway railway station, from which trains run to London Marylebone every 35 minutes, in less than an hour.
The sales to housebuilder CALA Homes, DAF Trucks Limited ('DAF') and crane hire specialist GGR Group ('GGR') account for approximately 58 acres.
In September 2015, Aylesbury Vale District Council granted outline planning consent for Lands Improvement's application for the site, which included up to 233 new homes (including affordable housing), a 12 acre extension to the existing Haddenham Business Park; a new community pavilion and sports pitches; open space; a retail convenience store, and a 64-bed care home.
This vision is now taking shape following the sale of three development parcels for a mixture of both commercial and residential development.
Two hundred jobs will be moving to Haddenham Business Park following the sale of development land to two major employers, DAF Trucks Limited and GGR Group.
DAF, which is the UK's largest manufacturer and supplier of commercial vehicles has acquired 4.5 acres at the entrance to the business park and already started work on a three-storey, 50,000 sq ft office building, which will be its new UK and Ireland headquarters for marketing and sales. The company is expected to move from its current premises in Thame in July 2018.
GGR, Europe's leading lifting solutions specialist has acquired a 4.8 acre plot. The company, which currently operates out of depots in Manchester, Glasgow, and Long Crendon in Buckinghamshire, will be using its new Haddenham premises for expansion.
High quality new homes on the site will be delivered by housebuilder CALA Homes, which purchased the residential parcel in early 2017 and has now secured reserved matters approval to build 233 new homes, a children's play area, sports pitches, and a community pavilion to be used by local teams.
James Stone, Managing Director at Lands Improvement said: "It is exciting to see construction begin on site after all the hard work we have dedicated to developing the masterplan, working with the local community, and delivering major improvements to local transport links. The expansion of Haddenham Business Park and new residential development will bring both quality new jobs and homes to this part of Buckinghamshire."
Lands Improvement is in discussions with a number of other potential purchasers in relation to the retail and care home elements of the development.