Over 300 homes to be built in Worksop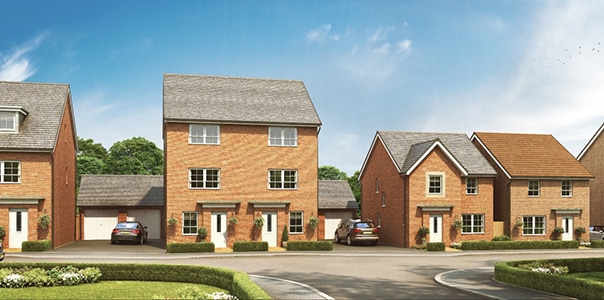 Work will commence on the Gateford Park development this year.
More than 300 new homes will be built on the new Gateford Park development in Worksop, Nottinghamshire following the successful sale of 40 acres of residential development land by Savills development team on behalf of the seller, Lands Improvement.
The land at Gateford Park is situated adjacent to the very successful and sought after residential development at Gateford. It is less than two miles from the centre of Worksop, with excellent access to surrounding towns and cities via the A57, A60, A1 and M1.
Following a successful application submitted by Lands Improvement for outline planning permission in May 2015 for up to 750 new homes at the site, Savills Nottingham development team has worked closely with the land promoter to carefully select house builders for phase one of the development, which will be built by Barratt Homes, David Wilson Homes and Jones Homes. They have committed to building 152, 98 and 168 homes respectively.
James Stone, Managing Director at Lands Improvement said: "This sale marks the beginning of an exciting creation of a new, high-quality community in north Nottinghamshire. It will involve the immediate delivery of homes, facilitated by our servicing of land parcels to create efficient 'ready to build' parcels for development. We were looking for partners to share in the vision and deliver an exemplar housing scheme, in addition to holistic placemaking across the site to set the tone for the wider development."
Ann Taylor from Savills Midlands development team said: "For Barratt Homes and Jones Homes, this offers the chance to be at the forefront of the vision for this project and to work alongside our client, Lands Improvement to establish themselves as a key delivery partner for the long term strategy in housing delivery across the site."
The site is well contained by mature woodland to the north and west and is promoted as a sustainable residential scheme comprising 97 acres with consent for up to 750 homes, which will integrate into the adjacent Gateford development.
In addition to the new homes, for which building work is expected to start on site in September 2017, the planning permission includes provision for a primary school including a community hall and two junior playing pitches, surrounding landscaping work and highway and drainage works. The school site has been prepared and serviced by Lands Improvement and will be transferred to Nottingham County Council who are delivering it.
The development of Gateford Park will also help fund improvements to local road junctions to reduce congestion.
David Ruffley, regional director at Jones Homes, comments: "We are thrilled to be part of the innovative Gateford Park development, which will see the delivery of much needed new build homes in Worksop, complemented by purpose-built community facilities. It is an exciting scheme for Gateford that will create a whole new community, and we are very much looking forward to starting the build, providing 168 well-designed, high-quality homes."
IBB Solicitors acted on behalf of Lands Improvement, Shulmans for Jones Homes, and Eversheds on behalf of Barratt Homes.