Planning application submitted for 850 homes and a new open space at Poole's biggest regeneration site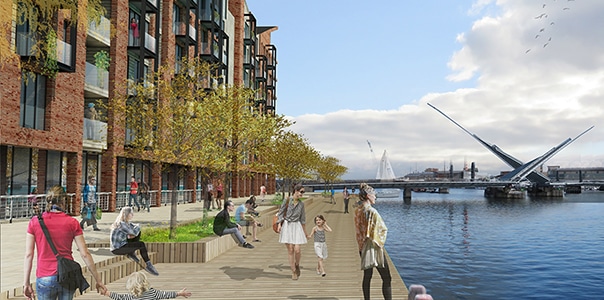 Exciting plans to create 850 homes and a new quayside public realm area at Poole's biggest regeneration site have been submitted by the landowners.
Gallagher Estates and Lands Improvement, who jointly own the site, have submitted an outline planning application to the Borough of Poole for a new mixed-use development in Hamworthy, known as Newbridge Point.
The brownfield site has been vacant since the former Poole Power Station was demolished in 1993. The site redevelopment faces various challenges due to its previous uses, including as a former oil depot, which has left the site with below-ground structures, mass concrete foundations, quay wall and contamination matters to resolve.
The recent Local Growth Fund allocation by Dorset Local Enterprise Partnership (DLEP) to Borough of Poole will significantly help the delivery of housing and employment by enabling the necessary infrastructure improvements on this site, which Government has designated as a Housing Zone.
The new plans would involve creating in the region of 850 new homes, a mix of houses and apartments, on 13 hectares of land next to the iconic Twin Sails Bridge which together with the new road around the site has helped unlock the site for development since 2012.
The development also includes new floorspace at ground floor level for commercial and community uses along the Quayside, as well as a new high-quality outside space.
A new central public park is proposed, which would include a children's play space and informal recreational space, that can be enjoyed by both new and existing residents of the area. The development would be easily accessible for walkers and cyclists and provides a network of streets linking Hamworthy Recreation Ground, the Quayside and Poole town centre.
Gregg Wilkinson, managing director of Warwickshire-based Gallagher Estates, said these plans, following local consultation, would have a significant positive economic impact on Poole.
"We are pleased to have reached a point where we can submit plans we feel are market-facing for Poole and focus on delivering high-quality homes which will include more family housing," he said.
"We believe the retail and restaurant units will complement the provision on the existing Poole Quayside, while there will be a focal green space for residents to enjoy as well as providing a link to the Eastern Quay.
"Newbridge Point will be a distinctive new neighbourhood for Poole and the local economy would be boosted by the increase in new residents as well as by the jobs that would be created during the construction phases."
James Stone, managing director of Lands Improvement, said: "We are committed to delivering new homes and a quality new urban environment on this challenging brownfield site. The development has evolved over the years and it is now more focused on family housing to respond to the local housing demand in Poole.
"We are grateful for the progressive and collaborative approach of the Borough of Poole and Dorset LEP and are pleased to secure funding to develop important infrastructure that will benefit the wider community and support the delivery of housing and local jobs through this development.
"We are excited to be submitting our new proposals and look forward to working with the Borough of Poole and local community stakeholders on the delivery of this important regeneration scheme."
Barton Willmore is acting as architects and planning consultants on the scheme.